Self-Help (Without the Magical Bullshit)
2019-03-31
I try to read a variety of different books, including the occasional "Self-Help" book. While reading The Secret, one thought repeatedly crossed my mind:
Wow. This book is full of magical bullshit!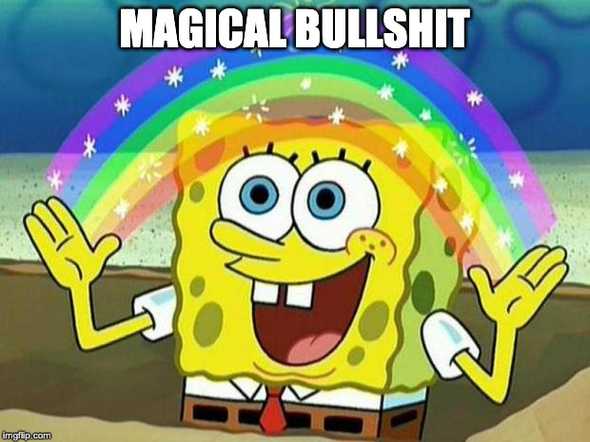 Now, don't get me wrong. I think the book contains a lot of empowering ideas. But, reading this book was like listening to a 4-year-old explain how computers work. Sure, they seem to grasp that computers have incredible potential, but their understanding of the inner workings are a bit fantastical.
This mysticism can be a non-starter for many people that would otherwise benefit from the book. That got me wondering: could I write a self-help book without the magical bullshit?
Now that I think about it… I probably could. Here's an initial outline of some of the topics I'd want to cover:
Intro

I'm not a billionaire who buys a new mansion instead of mowing the lawn.
I'm just somebody who seems to be doing OK at life.
Here are some of my strategies.

Some easy wins to get us started:

Stop making self-deprecating remarks. (Reminder to self: tie back to this in Echo Chambers chapter)
Spend 2 hours cleaning your workspace / home.
Get some sleep. (Reminder to self: only 24 hours in a day)

There's a good chance that you're already doing a ton of things!
Listing these out on a daily basis can give you a sense of accomplishment, and thus help to reduce anxiety.
Once you're feeling less anxious, you can then review these lists and figure out what to change.

To-Do Lists

Brainstorm first. Organize later.
Strategies for organization.
Strategies for prioritization.
Pick 2-3 things. Table everything else.
Oh, and leverage things like Trello or Google Keep!

Overcoming Decision Paralysis

Prototyping
Timeboxing
Picking things at random

Embracing Technology

Don't allow an irrational fear of technology to become a barrier to opportunity!!!
Must-Have apps: TODO lists, calendars, document sharing, etc.

Investments and Efficiency Gains

There are only 24 hours in a day. Work vs Value.
Reevaluation and Accelleration.
Automation.
Delegation.

Echo Chambers and Seeing Reality

Most people don't see reality. They are just sleep-walking through a dream.
Noticing unconventional paths. (Reminder to self: sidewalks)
Assertions, Accreditations, and Capabilities. (Question everything. The world is full of misinformation and useless noise.)

Contingency Planning

Devise 2-3 solutions to every problem. (ie: "alternative plans")
Always be prepared to fallback to another plan.

Multitasking

We're not all wired for multitasking. But, there are some basic time-savers that many people are able to do.
Exercising while listening to audio books.
Talking on the phone while walking to your destination.
Etc.

Making friends

Find people who inspire you!

Taking care of yourself

You might not be in a position to do some of these things right now. But, make these a priority ASAP!
Eating right.
Getting plenty of sleep.
Respecting yourself. (ie: make time for yourself. Don't let others stretch you too thin, etc)
Okay — not too bad for an initial brain dump. But, it's a good thing I didn't include a section on "motivating yourself". Otherwise, I might actually have to write this book!
---